Meet Dr. Michael Pickens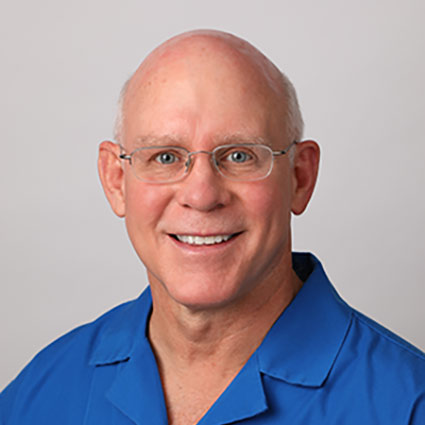 Dr. Pickens decided to pursue a career in health care, because he had a strong desire to help people who were in pain or sick. He specifically chose to become a chiropractor as result of the phenomenal results he experienced through chiropractic care of his own painful injury.
After already reaching the national level of competition in powerlifting by his freshman year in college, Dr. Pickens injured his upper back doing heavy squats (weighted deep knee bends). As a result, he went from being able to use 400 lbs. for repetitions at a body weight of 165 lbs., to barely being able to stand the weight of an empty 45 lb. Olympic bar across his shoulders. After six months of seeing doctors and therapists and trying a variety of unsuccessful therapies, someone at the health spa where Dr. Pickens was working for the summer, suggested he see a chiropractor. Desperate for relief, he immediately scheduled an appointment.
"I was amazed at the results. Although I experienced a little pain during the first couple of adjustments, I also experienced almost immediate relief of the pressure I had felt for months. I was adjusted three times in the first week of care, and by the end of that week, I was able to do squats again. Soon, I was able to surpass the previous weight I was lifting."
This life-changing personal experience eventually led Dr. Pickens to pursue a Doctor of Chiropractic degree at
Life Chiropractic College
in Atlanta, Georgia, where he graduated valedictorian of his class in 1984.
"It surprises many people to discover that I have had my share of back and neck problems. Most of my patients are shocked to hear that I get adjusted at least once a week. I hate to think of the condition I would be in today if someone hadn't suggested chiropractic to me years ago, or if I weren't getting regular care now. The fact is, if it weren't for chiropractic care, I would be in constant pain, or be on medication most of the time to be able to function."
EXPLORE OUR SERVICES

Coming to the Toledo Area
Born and raised in the Detroit area, Dr. Pickens has lived in Toledo since 1986. He met his wife, Nancy, while in college at the University of Michigan. After many years as a Registered Nurse at Flower Hospital in Sylvania and later as a wound care nurse specialist working for Hospice of Northwest Ohio, Nancy completed her masters degree in Nutrition, in order to assist her husband at ABA Family Chiropractic. Dr. Pickens and Nancy have three grown sons.
Dr. Pickens attended the University of Michigan in Ann Arbor for his undergraduate studies and completed his pre-chiropractic courses in 1980. He then went on to earn his Doctor of Chiropractic degree from Life Chiropractic College in Marietta (Atlanta), Georgia. He graduated Summa Cum Laude and was class Valedictorian. He also was a supervising intern in the school's main outpatient clinic his senior year and received one of two Outstanding Clinical Proficiency Awards given to his class.
Continuing Chiropractic Education
Following graduation, Dr. Pickens advanced his clinical skills while working with Dr. William Pollack and Dr. Richard Oberheau at their offices in Southwest, Michigan. To begin his private practice, Dr. Pickens moved to Toledo and associated with Dr. Martin Adams for two years. In 1988, Dr. Pickens established a private practice on his own, and spent 5 years at his first office which was located on Holland-Sylvania Rd. Since 1993, Dr. Pickens' practice has remained at his current location on Reynolds Road in West Toledo.
Professional Affiliations
Ohio State Chiropractic Association – Board of Directors, 3 years
Northwest Ohio Chiropractic Association vice-president for 2 years
Gonstead Clinical Studies Society
Schedule Today
Thanks for visiting our site. I look forward to meeting you in person and learning how we may be of service to you. Contact our office and let's arrange a time to explore your options."

Dr. Michael Pickens | (419) 535-7818