Pediatric Chiropractic & Nutrition in Toledo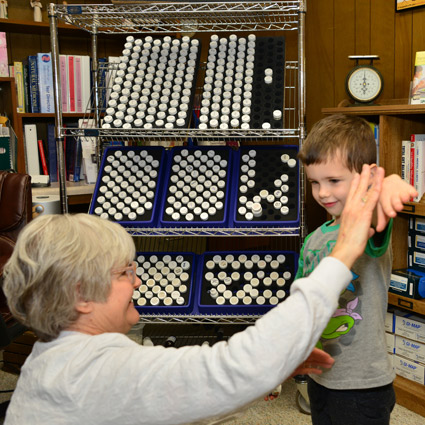 The quality care we provide at ABA Family Chiropractic is not just for adults. A lot of our adult patients' problems had their beginnings in childhood. Unnoticed or untreated minor traumas add up over time. That's why we offer safe, effective chiropractic care and functional nutrition for pediatric patients.
If you have kids  and are in the Toledo area, our pediatric
chiropractic adjustments
and functional nutrition programs may help your children avoid long-term health conditions and chronic pain.
Besides correcting spine and extremity problems in the early stages, we have routinely uncovered and resolved the causes of anxiety, constipation, ADHD, ear infections, tonsilitis, swelling in the lymph nodes, eczema, and other problems in many of our pediatric patients.
Gonstead Chiropractic for Pediatric Patients
Our philosophy is that, if you have a spine, it should be checked on a regular basis. While not every pediatric patient needs immediate chiropractic care, we are ready to evaluate anyone from birth to the grave, and provide them holistic chiropractic care using the Gonstead Method.
Beyond the typical back or neck pain, pediatric patients may be complaining of headaches, growing pains, consistent illness, and/or stomach aches when they first visit. Whatever the issue, we work hard to provide chiropractic care that helps them stay on track for healthy spine and extremity joint development.  We also take into account risk for scoliosis along with other deformity issues, to put your mind at ease about those issues.
Functional Nutrition for Pediatric Patients
Digestive problems and skin issues, such as eczema, are common conditions that we can help improve for our pediatric patients through functional nutrition. Conditions that affect behavior, such as attention deficit disorder (ADD), can also be addressed by our functional nutritionist, Nancy Pickens.
Just like adults, pediatric patients receive a comprehensive evaluation of their lifestyle and nutrition that helps Nancy develop a personalized plan that is in alignment with the parents' goals. Along with specific dietary recommendations, we carry pediatric supplements that are safe and integral in helping children achieve long-term wellness.
Schedule Pediatric Examination Today
It is never too early to bring in your children for a comprehensive examination. Contact us today to set up an appointment!
CONTACT US

Pediatric Chiropractic & Nutrition Toledo (in the Wildwood area), Sylvania, & Ottawa Hills Ohio | (419) 535-7818